Loading
These interventions drew attention to the statue. They made it visible not only to those who found it so painful, but also to other locals and visitors. People wanted to know what it was about and to know more about Crowther. Momentum built for the removal of the statue.
Crowther's downfall will be nothing like the loud toppling of Edward Colston's statue by a crowd of Black Lives Matter protesters in Bristol in June 2020. It will not suffer the indignity of incremental mutilation or layers of graffiti like today- removed statue of Robert E Lee in Richmond, Virginia.
Instead, talks are ongoing with the Museum and Art Gallery of Tasmania, a block from the statue's current location. If they agree to take it on, the statue can be presented with the balanced interpretation that museums excel at. There he can still play a role as a witness to past values ​​– visible proof that it has long been considered acceptable to have a statue of a body thief in a public park.
To my knowledge, this is the first process being considered that will lead to the removal of an Australian statue due to changing values. But, more discreetly, there is a long history of statues being removed and repositioned. Many of them, originally placed at the edge of the road in full view, have to be moved when the road is widened and end up in side roads or parks.
Sydney's Centennial Park was once adorned with 31 statues, including Abraham Lincoln and Charles Dickens. Many have been removed over the years due to decay, changes to park roads, and vandalism. Some have been replaced. None of this caused public outrage. It was recognized that statues were one element of the built environment among others and would inevitably undergo change.
I recommend a return to this approach. If one accepts that statues are a form of history – that they embody a particular way of looking at the past – they need to be revisited from time to time, just as written historians are. The history books on the shelves of the State Library are added each year as the historian asks new questions about the past and offers new understandings of it.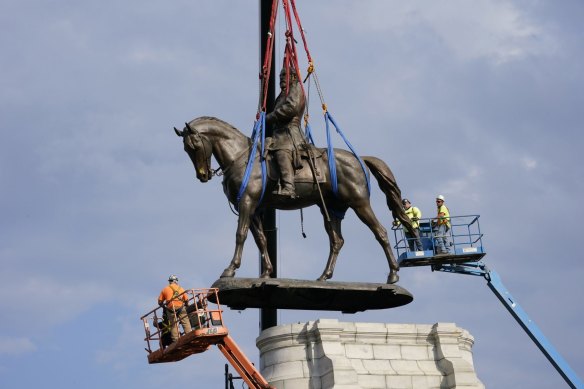 Since the 1960s, greater attention has been paid to workers, women, indigenous peoples and other marginalized groups, and in my own field of environmental history, to the plants and animals with which we share our life, and to the planet itself. I do not base my understanding of Australian history on a book written in 1889, for reasons Anna Clark explored so vividly in her new book. Making Australia's History.
But I'm not burning this book either. I use it more as a primary source – one that informs me of the concerns of the time it was written.
This is what the statues aim to revisit. He should identify which statues still have a message to share, which ones could be reframed with a new interpretation, and which ones should no longer be given a literal plinth from which to put forth their view of history.
A process like the one being pursued in Hobart, in which those who feel hurt by a statue's message, those who find themselves affirmed by it and those in between can all express their views before a decision is be taken by elected officials is a way forward.
The Opinion Bulletin is a weekly summary of viewpoints that will challenge, defend and inform your own. register here.